Sri Lanka participates in 16th Seodong Lotus Festival in Buyeo
About page
Writer

운영자

Date

18-07-19 15:28

Hit

4,455
Main text
Sri Lanka participates in 16th Seodong Lotus Festival in Buyeo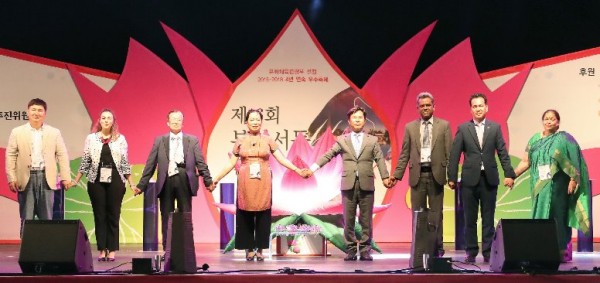 The Sri Lanka Embassy in Seoul participated in the 16th Seodong Lotus Festival in Buyeo hosted by Buyeo-gun from 06 to 15 July at Seodong Park in Buyeo.  Sri Lanka was one of the seven countries invited to participate in the Festival considering the significance of flowers of the Lotus family in these countries.   
A congratulatory video message by the Ambassador of Sri Lanka in the Republic of Korea Manisha Gunasekera was delivered at the inauguration of the Festival.  The Ambassador in her remarks observed that 'the beautiful Blue Lotus, known as Nil Manel, is the national flower of Sri Lanka, and is therefore very close to the hearts and minds of the Sri Lankan people'.   
Minister Commercial of the Embassy Jagath Abeywarna participated in the Lotus Festival which also showcased Sri Lankan culture and tourism including traditional dance performances. The other countries invited to the Lotus Festival were India, Vietnam, Egypt, Cameroon, Cambodia and Mongolia.
Embassy of Sri Lanka 
Seoul, Republic of Korea 
19 July 2018